Battles of Westeros Board Game Previews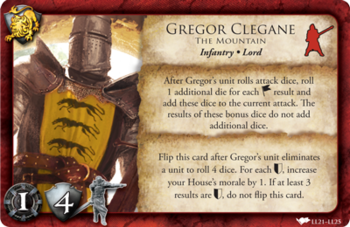 Some more details about the upcoming Song of Ice and Fire set wargame system Battles of Westeros have made their way onto the net. We definitely like what we see.
While not the highlight of the day the combat rules of the feature article "Art of War" are interesting, with the various levels of troop veterancy and even the base odds of Mounted vs Foot soldiers all taken care of in the odds of the 8 sided dice. The thing that really fills our engine though is this idea of captains on the field. Certain cards that you'll play during the course of a battle will only be able to affect troops if they're within earshot of the commanding officers. These are called Controlled Units. Here's a snippet:
---

"...typically only controlled units can by ordered using Leadership cards. Controlled units have a stronger immunity to adverse effects that target only uncontrolled units; also, many helpful effects can only be triggered or used by controlled units. We'll cover these effects, as well as Leadership cards, in future previews... "

---
So expect to see troop formations with clustered movements as opponents vye for control of the field.
The thing we like the most from this article this idea of engaged troops. Two units that square off against each other will enter this "engaged" state and a marker will be put between the two. If another squad of troops attacks an engaged unit, then it's categorized as a Flanking Attack and the attack roll can be rolled twice (if the first attack was an utter failure). This simple, elegant emphasis on positioning is much welcomed, and a great way to increase the depth of the game without putting throwing too many complicated rules in our face.
The second article "Lay of the Land" goes over the various terrain hex tiles that will be placed upon the board to customize the scenarios. We love the inclusion of roads which allow you to move troops across the field faster on a quick march, something that's often overlooked in these types of games.
Well keep you posted of more Battles of Westeros as they're released. So far the game seems to be a step up in complexity from BattleLore, but without becoming as complicated as other Fantasy Flight Games titles. We're stoked about what we've seen so far.

Read More in: Board Games | Gaming News
Share this Article with others:
Related Articles:
Came straight to this page? Visit Critical Gamers for all the latest news.
Posted by Critical Gamers Staff at March 19, 2010 5:05 PM