Battlelore: Terrains, Landmarks and Lairs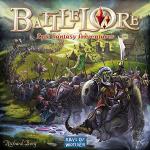 Now back from the Essen game expo in Germany, the Designers of the upcoming Days of Wonder flagship "Battlelore" [Funagain] war gaming system are back at work publishing preview articles on the game's official blog. The latest installment gives some cool details about the gameplay effects of the board's four terrain tile types.
The game's terrain tiles are used to configure the otherwise bare landscape of the board for each of the the ten different scenarios, and can effect troop movement and visibility. Some special abilities in the game effect troops who stand in specific a terrain types - the article uses an example of the "Rogue's Den" which can accelerate the withdraw of troops from a forest hex to a location many hexes away.
Trees and lakes aren't the only notable things littering the battlefield. Your troops might also take shelter in another one of the game's "landmarks" tiles, which include rock formations, tower fortifications, and buildings - some have unique abilities that effect various parts of the game. Here's a snippet:
"What nature does not provide, the ingenious talent of man will usually build. As a result, many distinctive Landmarks dots the battlefield.

Unless specified otherwise, Landmarks provide advantageous defensive capabilities to their occupiers, since a landmark's occupant usually becomes Bold by the sole virtue of occupying said landmark, regardless of adjacent troops' support or not.

In BattleLore, Landmarks often confer to their owners unique advantages, making them heartily contested and prized possessions." - From Terrains, Landmarks and Lairs
Battlelore is scheduled to ship in November, and is available for preorder from Funagain Games.
Read More in: Board Games | Gaming News
Share this Article with others:
Related Articles:
Came straight to this page? Visit Critical Gamers for all the latest news.
Posted by Critical Gamers Staff at November 2, 2006 3:44 PM