"Battlelore" Primer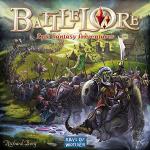 It's been a while since we first checked-in on this upcoming wargame, rpg, card game hybrid, and it looks as though the folks at Days of Wonder are molding their preeminent fall franchise into one heck of a battle system. The game's producers are taking their final steps toward release very carefully, pulling resources away from other Days of Wonder product lines in order make Battlelore the most polished title possible. They seem to think they have a huge hit on their hands - and even though the system is only in the prerelease phase - we tend to agree with 'em.
But don't take our word for it, check it out for yourself: the Battlelore Primer has been published and is available for your perusal on the game's new official website. It details everything from the game's various inspirations, to the colorful units, art, morale system, etc.
There's a lot going-on in any one scenario of Battlelore (the base set will ship with 10), but every rule is very simple to remember and more importantly, simple to resolve. The morale system promotes the clumping of units into formations so that they might withstand a full-on attack without running for their lives, so battle lines will march across the field much like those famous engagements of medieval history. The colorful unit banners are more than just eye candy - the can be swapped between unit figures to customize the attack and morale values for all units in that space. And to keep things fresh, the spirit of the game shifts from a Hundred Years War wargame into a fantasy combat game as more complexity is added - from various creature units to loremasters that acts as powerful generals effecting the entire battleground.
The guys at 2d6 Feet in a Random Direction recently had a hands-on session with the game, and they've included some juicy details in their latest podcast. Fast forward to 14:26 to hear their opinions and specific remarks, all of which paint the game in a very positive light.
Here's one cool bit from them: we learn bits about the game's Epic Battles which are played by friends flipping over two ore more Battlelore boards and locking them together, making an even larger battleground. Hells yeah.
Battlelore is now available to preorder from Funagain Games and from the Battlelore Official Website. The game is set to ship in late November.
Read More in: Board Games | Gaming News
Share this Article with others:
Related Articles:
Came straight to this page? Visit Critical Gamers for all the latest news.
Posted by Critical Gamers Staff at October 23, 2006 4:17 PM