BattleLore: Heroes Expansion Goes Epic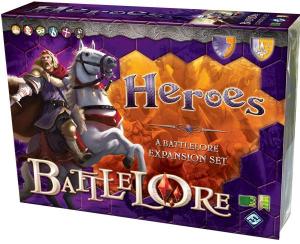 Late last summer the Battlelore Fantasy Wargame System franchise changed hands from the slick, colorful and approachable publisher Days of Wonder to the rich, enthralling, but sometimes rules-heavy Fantasy Flight Games. Both of these houses are on our top 5 publisher's list, so we weren't too worried with the hand off. Still, we were a bit concerned that Fantasy Flight Games might complicate a nicely stream-lined system with a slew of extra chits and rules.
And while it seems seems that the game will in fact notch-up the complexity scale with the newly announced Heroes Expansion, the additions to the game are being done in a really interesting and potentially rewarding way.
BattleLore Heroes - due out by the end of the year - introduces persistent characters that level up through numerous adventures (ie: battles). Its kind of like D&D meets a Battle Field (which kinda brings things full circle if you think about it).
The expansion will include 10 different classes, each with their own set of upgradable skills and abilities. Details on the first two classes have already hit the web, with preview articles for the Rogue and Cleric classes.
The articles are short, but the ideas are enough to pique our interest in the BattleLore system again, which has been a little slow in its development recently. We'll keep you posted of any more interesting news as more details emerge. Until then, here are the Expansion's official details:
---

"BattleLore: Heroes introduces player-created Leaders and Champions to augment your camp's forces in battles.

As with all journeys, the beginning is never easy. As a fledgling adventurer, you begin with a bare minimum of skills and artifacts to help you combat the enemy. Adventures have the potential to reward your intrepid Hero greatly if he performs well. But beware, battlefields are not without peril, and taking too many wounds may force your Hero into an unwanted early retirement.

Prepare yourself for the journey of a lifetime!

BattleLore: Heroes includes 10 unique Hero figures, a Rules booklet, 110 Skill, Artifact, and Landmark cards, and much more!"

---
Read More in: Board Games | Gaming News
Share this Article with others:
Related Articles:
Came straight to this page? Visit Critical Gamers for all the latest news.
Posted by Critical Gamers Staff at June 30, 2009 3:40 PM