BattleLore Dragons Expansion Announced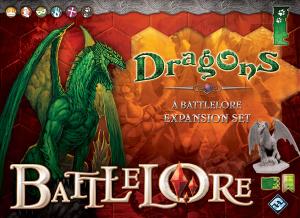 The BattleLore [Amazon, Funagain] war game system had a plan for its expansions since day one: start as a semi historic medieval era war game system and then roll in fantasy elements in the form of expansions. There have been some quality mini expansions here and there over the years, with a slow roll-out of fantasy creatures from Dwarfs to Goblins, and Trolls. But now there's something bigger on the horizon: Dragons.
The BattleLore Dragons expansion will include at least three different forms of the wyrms: Green (poisonous), Blue (frost) and most brutal Red (fire). Full details on the dragons and their abilities have been summarized in the feature preview article "Casting a Massive Shadow". Here's a snippet:
---

"As the battle draws to a close, the day in nearly won. Knights dismount, removing their battered helms and breathing in the smoking air. Suddenly, a shadow falls across the battlefield, accompanied by the deafening beat of massive wings... and the fight is far from over. This fall, all of Europe shall tremble before the might of three new creatures!

BattleLore: Dragons, the upcoming expansion for the beloved strategy game BattleLore, brings to bear the awesome power of one of the most iconic figures in the fantasy genre. These majestic creatures promise to lay waste to their foes as they fly unhindered about the battlefield."

---
We'll keep you apprised of any new interesting details as the expansion gets closer to release, including the release of the sculptures (we hope their huge) and of cousre news of an actual release date! So far.. we just don't know.
Have a good weekend folks.

Read More in: Board Games | Gaming News
Share this Article with others:
Related Articles:
Came straight to this page? Visit Critical Gamers for all the latest news.
Posted by Critical Gamers Staff at August 28, 2009 5:05 PM