"BattleLore: Call to Arms" Expansion Released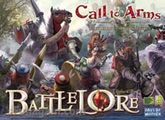 Publisher Days of Wonder has pushed out the first of what will be many expansions to their fantasy wargame system BattleLore. In this substantial release, Call to Arms [Amazon,Funagain] attempts to redefine the way players deploy their armies on the board through a formation-card drafting system. The system is optional of course, but the goal is to increase replayability as players can deploy a random, unique, and balanced army in very little setup time. Does it work? Reviewer Tom Vasel thinks so - he has given the expansion 5 stars out of a potential 5. That's full marks for those folks who just found they're bad at ratios.
The expansion also includes new terrain tiles, new units, and a set of new scenarios, too. For more information about Call to Arms, check-out our BattleLore coverage from last week. It's got all the good stuff. You can also check the official rules published here [pdf].
Those of you waiting for more BattleLore goodness should be well-satiated. Plus, even more mini expansions are coming down the pipe even as we speak. Good times.
Here's the official word:
"Call to Arms offers you a new method to deploy custom troops and armies onto the fields of battle. Rather than relying on the point-based army buying approach common to many miniature games, BattleLore's army selection system uses a novel, carddriven deployment mechanism, centered around the use of Deployment decks, Specialist cards and Feudal levy tokens.

In late medieval warfare, armies were often drawn up into three military formations, commonly called Battles or Guards: The vanguard, middle guard and rearguard respectively led, followed and closed the column of troops on the march.

Upon reaching the enemy, the Battles would deploy abreast, with the vanguard moving to the right of the battlefield, the middle to the center, and the rear to the left.

The deployment mechanics introduced in this expansion mimic the medieval deployments of yore, providing you with a uniquely fun and enjoyable way to customize your troops and deploy your armies."
BattleLore: Call to Arms [Amazon,Funagain] is now shipping from Amazon and Funagain Games.
Read More in: Board Games | Gaming News
Share this Article with others:
Related Articles:
Came straight to this page? Visit Critical Gamers for all the latest news.
Posted by Critical Gamers Staff at May 14, 2007 1:19 PM