Where is BattleLore Heading?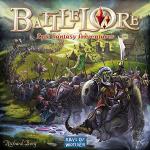 It seems that the BattleLore board game system designers at Days of Wonder have recently come under a bit of fire about the game's seemingly shallow and stagnant setting since its release six months ago, and the lack of PR communication about where the BattleLore system is headed. People have also been stamping their feet, comparing the BattleLore [Funagain,Amazon] system to the very robust and installed Warhammer Franchise which has more than enough content to go around.
The designers have responded with a post "The Long View" on the BattleLore official blog. In it they cite numerous projects they're working which should flesh out a lot of the core system, with the goal of installing a larger source base before branching the system with some mondo-sized expansions. They also list the releases slated for release this year, which includes: the soon to be released Call To Arms expansion; a print version of Epic BattleLore, which provides rules for players to combine multiple sets of BattleLore to form huge multiplayer battles; and the mid summer release of the Specialist Packs which will introduce new units to the game. The designers also note that the online scenario editor is up and running, which should serve as an outlet for those who want to work their creative side.
Also upcoming are newly announced Hero characters. Currently the details are somewhat lacking, but it seems like the designers will use Heroes as a tool to add a stronger narrative to each of the battles.
But it looks there won't be a huge expansion that gives a major facelift to BattleLore until 2008. Honestly, we don't feel that to be too much of a problem. It has only been six months since the launch of a whole new franchise. And yes, even though Days of Wonder has dragged their feet a bit, and even though haven't been too forthcoming with their community-based PR, they still do seem committed to pushing the BattleLore forward.
The franchise has passed the "release test", and now they're working hard to put more resources into the system. And if this first wave of expansions between now and June doesn't seem to fill the vacuum created over the last six months, then maybe we can crack open our Axis & Allies box and start rolling tanks onto the battlefield while we wait for bigger and better things. Aim for the dwarves.

Read More in: Board Games | Gaming News
Share this Article with others:
Related Articles:
Came straight to this page? Visit Critical Gamers for all the latest news.
Posted by Critical Gamers Staff at April 24, 2007 3:47 PM