Battlelore "Adventures" and 3rd Party Review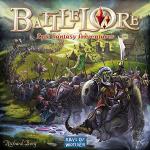 A couple of cool things were released today in the realm of "Battlelore" [Funagain] prerelease media. First up is a new official preview article from the game's designers. "The Adventures" describes how the boys in creative bent history to mold the various Battlelore scenarios shipping with the game.
Apparently French author Jehan Froissart chronicled a lot of history during the 100 years war, but left some details unmentioned, or alluded to some supernatural events that might have affected the outcome battles. That's where Battlelore steps in, inventing scenarios which involve units out of both medieval history and medieval fantasy.
Here's a snip from the preview article:
"As you delve into the Adventure's booklet that comes with the game - Froissart's Vrayes croniques de France, d'Engleterre et païs voisins - you won't be able to help but notice that even the best history books didn't quite get it right!

Maybe it will be the frequent sighting of mercenary bands of mythical races; or the rumors of the monstrous creatures said to roam the land; or the whispered talk of Lore, this arcane power that is said to draw as much from science as from witchcraft;

It doesn't matter: soon enough, you will acquire the conviction that not all is at it seems in old Europe." - From "The Adventures"
We should also note that article mentions that players will be able to create their own scenarios - err, adventures - with an online editor, and then share their creations with the rest of the Battlelore community on the game's website. Very, very nice.
Next up on the Battlelore front is a review on BoardGameNews.com entitled "Frank Branham: Rant 9 and Battlelore Review". Frank has somehow snagged an advanced copy of the game and he has already ran through it few times. He critiques the pieces, art, and gameplay in this punchy review. If you're looking for views outside the official press then look no further.
Battlelore is set to ship this month, and is available to preorder from Funagain Games.
Read More in: Board Games | Gaming News
Share this Article with others:
Related Articles:
Came straight to this page? Visit Critical Gamers for all the latest news.
Posted by Critical Gamers Staff at November 9, 2006 5:47 PM