Axis and Allies Guadalcanal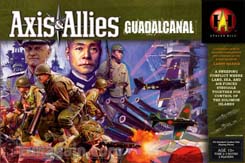 This year's installment of the long running strategy game series that lifted us out of the Risk dark ages has now shipped to stores. Axis & Allies Guadalcanal [Amazon, Funagain] continues the line of focused battles, but this time heading to the waves in the first major engagement of American Naval and Marine forces against the Japanese Imperial army and navy just north of Australia in the Spring of 1942.
A&A Guadalcanal includes many gaming elements new to the franchise. Players will now be able to construct destructable airfields on the various islands in the island chain, and a new dice box mechanic assigns hits and simulates the choas of combat. But don't worry, the girth and commanding presence of your major units factores into it all, so your battleship won't be sunk by a sleepy fishing trawler's harpoon gun.
Check out our other stories for more information on Axis & Allies Guadalcanal, or read on for the official game details:
"A sweeping conflict in the South Pacific where naval might leads to air superiority. Axis and Allies: Guadalcanal challenges you to control sea zones and island groups while managing troop and supply transport and directing land, sea, and air forces in one of the decisive campaigns of the Second World War's Pacific Theater.

Axis and Allies: Guadalcanal incorporates crucial elements that were key factors in the historical campaign, such as air strip construction, troop and supply transport, and furious land, sea, and air battles. It introduces the Cruiser unit as well as mechanics for land, sea and air combat in the South Pacific using a randomized casualties system."
Read More in: Board Games | Gaming News
Share this Article with others:
Related Articles:
Came straight to this page? Visit Critical Gamers for all the latest news.
Posted by Critical Gamers Staff at November 21, 2007 9:21 AM