Axis & Allies Pacific 1940 Previews at AxisAndAllies.org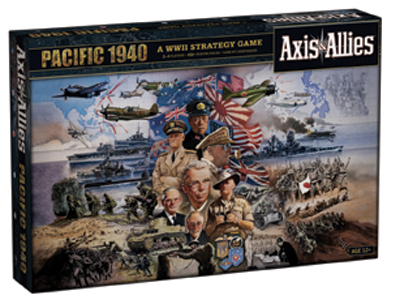 Our friends over at AxisAndAllies.org have started a drum up to this year's biggest A&A release: Axis & Allies Pacific 1940. The first two articles are a series of images of the components of the game, including detailed images of the various factions' unit sculptures, the board, the rules, national setups, the works:
And they promise that there's more info to come as we approach Axis & Allies Pacific 1940's release on December 15th.
Just a quick lowdown on the game: this installment is essentially the spirited offspring Axis and Allies Anniversary Limited Edition drilled-down to the Pacific Theater only. It features rules and large format board just like it's predecessor, but will hopefully have a more extensive production run (last year's 50th Edition is selling for 170 bucks + these days).
Then next year, in an exciting move, Avalon Hill will release a second installment for the European theater. Nigh-official scuttlebut has it that this European edition will be compatible with this Pacific Edition, and combining the two will create the largest most epic A&A experience to date.
For more information about A&A Pacific 1940, please also see our previous story: Axis & Allies Pacific 1940 Details
Read More in: Board Games | Gaming News
Share this Article with others:
Related Articles:
Came straight to this page? Visit Critical Gamers for all the latest news.
Posted by Critical Gamers Staff at December 5, 2009 9:01 AM