Axis & Allies Pacific 1940 Details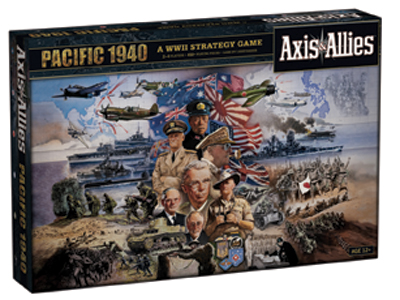 By all accounts and purposes the limited edition 50th Anniversary Edition of the Axis & Allies was a huge success last year. Not only did it sell out faster than Spam at DEFCON 2, but the game itself is the best A&A experience around. Nothing rivals its scale, balance, and playability when it comes to global WWII conflict.
So push all of the mojo down into the Pacific Theater and you get the idea behind this new surprise installment. A&A Pacific 1940 includes a large format board (a bit smaller than 50th Anniversary, for good reasons we'll detail in a bit), good sculptures, new units, new rules, and new factions. Our friends over at Axis & Allies.org have a great rundown of all the features known of the release so far.
There are three major things of note that we've pulled from there. First, China will be back in full force like it was in the 50th Anniversary Edition. We loved the meat grinder battles with China and Japan, and the interesting spawn mechanics in that theater which seem to have also been adopted for this installment. Second, Battleships and Carriers can be damaged (on one hit, sunk on 2) but need to be brought back to port before being fixed.
Finally, A&A Pacific 1940 will be compatible with its newly announced cousin: A&A Europe which should launch in the second quarter 2010. Can you imagine the awesomeness of two large format A&A experiences going down in a mega WWII A&A fight that'll make the Anniversary edition seem like a bowl of kittens? We can't. We might just have to dedicate a room to it and have a game constantly going for a year.
We'll keep you apprised of the details as we get closer to the release. Until then checkout the Axis & Allies Pacific 1940 Pictures and Fact Sheet on A&A.org, because there's lots of new stuff going on with this new installment. Here are the official details:
---

"Axis & Allies celebrates 25 years of strategy war gaming with the release of a deluxe theater-level game in December 2009. Axis & Allies Pacific 1940, designed and developed by Larry Harris, will utilize the updated rules established in A&A Anniversary Edition. Two new combat units will debut in this game, Tactical Bombers and Mechanized Infantry. Australia and New Zealand, joined together as the ANZAC forces, will debut as a new playable ally. China will field more forces than ever before, but will need all the help they can get from their allies the United States, ANZAC and the UK to withstand the might of Imperial Japan.

Axis & Allies Pacific 1940 will feature an oversized board that measures 35" wide by 32" high. With over 450 pieces, deluxe game components and local storage boxes, this game will raise the standard established by A&A Anniversary Edition. All new rules for neutral nations, naval & air bases, kamikaze attacks and convoy disruption will add even more depth and historical accuracy to this giant game."

---
Read More in: Board Games | Gaming News
Share this Article with others:
Related Articles:
Came straight to this page? Visit Critical Gamers for all the latest news.
Posted by Critical Gamers Staff at November 16, 2009 3:20 PM