Axis & Allies Guadalcanal: Near Release Preview Blitz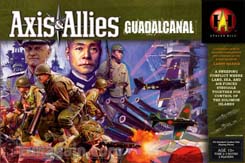 We're are beginning to get more details on this year's installment of the Axis and Allies franchise: Axis & Allies Guadalcanal [Funagain] as we march closer to its release on November 16th. First a new feature article has been written by the A&A lead designer Larry Harris, and then some news follows that with AxisandAllies.org who has gotten their lucky hands on a review copy of the game and started releasing some preview articles of their own..
The Larry Harris feature article A Guadalcanal Diary sets the mood on the Avalon Hill official website website This isn't a standard developer's release diary, but instead 'diary' refers to his father's war diary which was written when he served in the navy during World War II and includes notes and reflections on his experiences of the true battle of Guadacanal. Mr Harris (out of respect) has created a great series of Axis & Allies games reaching far into our early years of gaming, but this latest installment - which includes the first major American Marine action in the Pacific - strikes home for him more than any other to date.
At that time the American forces were only just starting out on their strike-back campaign against the Japanese Empire, who had all the momentum and combat experience heading into the fight. Moreover, at this point in thime the conclusion of the war was far from inevitable, and this first major land, air and navy coordinated offense pitted the green American forces against a very balanced and tough Japanese defense. The table was set for a for a difficult struggle from both sides.
Of course this lends itself perfectly to the opening of a classic strategy board game. And our friends over at AxisandAllies.org have started churning out the preview articles of the game itself. We've reported on Part 1 before, so don't do a double take. Part 3 is where we think things become really interesting. Here they are to date:

Axis & Allies Guadalcanal Preview 1: Units This first early preview takes a look at the modeling of the pieces. Those worried about the level of quality or authenticity of their plastic bits should check here first.
Axis & Allies Guadalcanal Preview 2: Tokens, Markers, and Counters
Continues the preview of the gaming pieces, but works in more about how they will work with the gameplay mechanics. The constructible and destructible airfields seem to be a key new element in this release. This article also previews a bit of the game's win mechanics.
Axis & Allies Guadalcanal Preview 3: Combat and the Battle Box
Ah the combat mechanics and the new Dice Box. This thing will mix things up by aligning dice in a row. As you pull on the box the dice will come out in a specific order, and assigning hits to particular units involved in combat. Seems like a great mechanic to keep the game dynamic, and yet not excruciatingly random and it sports mechanisms that keep the bigger/more expensive units alive in battle.

We'll keep you posted of any other Axis & Allies Guadalcanal [Funagain] preview news as we approach release. Currently the game is slated for a release on November 16th, 2007.

Read More in: Board Games | Gaming News

Share this Article with others:

Related Articles:

Came straight to this page? Visit Critical Gamers for all the latest news.

Posted by Critical Gamers Staff at November 7, 2007 5:16 PM