Axis & Allies: Guadalcanal - The Fog Lifts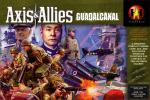 Axis and Allies.org sends updated news about the next installment in the Axis & Allies line of games: the Japanese vs USA Naval and Marine battles of Guadalcanal. It looks like many things are going to follow the evolution of mechanics from the Battle of the Bulge, including the dice box, supply tokens, and the random hit assignment mechanic (however it appears the later has been changed a bit). The game will also incorporate what looks to be air strips –with some wonder if they'll be dynamically built - and the allocation of reinforcements at the cost of Victory Points.
Axis and Allies .org has all the info up until now, including a CG rendering of both the prototype board and pieces, and a breakdown of the game's rules and general thoughts from the knowledgeable A&A critics in the Axis and Allies.org forums.
Axis & Allies Guadalcanal is slated to ship in November 2007.
Read More in: Board Games | Gaming News
Share this Article with others:
Related Articles:
Came straight to this page? Visit Critical Gamers for all the latest news.
Posted by Critical Gamers Staff at August 2, 2007 3:08 PM