Axis & Allies Annivesary Edition Slated for November '08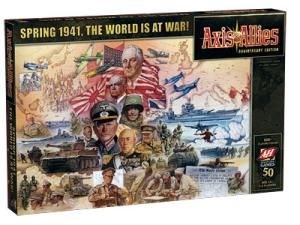 Avalon Hill has announced a release date for this years Axis & Allies installment November 18th, 2008. This year
they're taking a step back, not visiting one of the major theaters or specific battles as we have in recent memory (Guadalcanal, Battle of the Bulge).
Nope, this time Avalon Hill is consolidating its gains. The new Axis and Allies Anniversary Edition will be a large step up from the standard Axis & Allies title in just about every dimension. It'll include new pieces, new units, and new mechanics gleaned from past few years of releases. And if that's not enough: there will be two new playable factions in China for the Allies and Italy for the Axis. Oh, and the game will be physically larger than ever, too, with a board that dwarfs all others at 2' x 4'. That's a good 6" sub larger than the Revised Edition, in both directions.
Expect the mammoth Axis & Allies Anniversary Edition in stores in just a few weeks. Looks like the long Thanksgiving homecoming weekend might include a few rounds of large scale world domination.
Here are the official details:
---

Axis & Allies celebrates 50 years of Avalon Hill games with this Anniversary Edition of the classic World War II strategy board game. Designed by Larry Harris, A&A Anniversary Edition will utilize the standard D6 combat system found in Axis & Allies Revised, Europe, & Pacific. Italy will debut as the third Axis nation, China will be operated by the US player, and cruiser class ships will join the naval line-up for the first time. The largest board ever produced for an A&A game, along with deluxe components will ensure this is the granddaddy of all Axis & Allies board games. Deploy your forces and prepare for battle!

Axis & Allies: Anniversary Edition details:

Designed by Larry Harris, creator of Axis & Allies
Italy introduced as the third Axis nation
Two set-up options: Spring 1941 and Spring 1942
Cruiser class ships join the naval unit line-up
China included as US controlled ally
New sculpts for Italy, China, and others
Game board measures ~ 24" x 46"
Over 600 game pieces
48 page rulebook

---
Read More in: Board Games | Gaming News
Share this Article with others:
Related Articles:
Came straight to this page? Visit Critical Gamers for all the latest news.
Posted by Critical Gamers Staff at October 15, 2008 2:09 PM