Axis & Allies Anniversary Edition is Almost Gone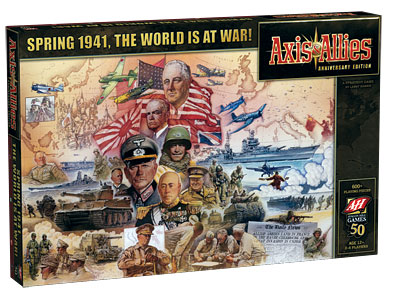 Over the last few days we just noticed that it's getting hard to find a good deal on the mammoth Axis & Allies Avalon Hill 50th Anniversary edition [Amazon, Funagain] . We did some poking around Amazon and Troll and Toad and noticed that the game has actually gone up on price by about 30% already. Someplaces it's up 100%. Considering that this title came out only 5 months ago, that's saying something.

And being an Anniversary Edition, we're thinking that this may be a one time dealio. They probably wont spin-up the presses in 2010 for an 2008 released 25th Anniversary Edition. We wouldn't be going out on a limb to say we won't see an Axis & Allies release this big again for a decade or more, either. After all, this thing sports a 8 square foot board, rebalanced with two new factions, custom dice, custom pieces, new gameplay mechanics and units, the works.
The love that went into this title might never be matched in another A&A game (you can read all about the details of the game in our Release Story from in November '08)
So we're giving you a heads up. You can still find a few copies on Ebay every once in a while, and still at the MSRP to boot. But their getting rare, and the retailers are jacking up the price like its the Cuban Missile Crisis, so act now.
Good luck. And have a good weekend!
Read More in: Board Games | Gaming News
Share this Article with others:
Related Articles:
Came straight to this page? Visit Critical Gamers for all the latest news.
Posted by Critical Gamers Staff at April 3, 2009 5:19 PM