"Arkham Horror: Dunwich Horror" Released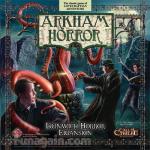 Fantasy Flight Games have released their second expansion to the popular Arkham Horror [Amazon, Funagain] board game: Arkham Horror: Dunwich Horror [Amazon, Funagain]. It seems that evil doings-a-transpiring have spilled over from the town of Arkham into the neighboring town of Dunwich. The expansion includes new investigators, new monsters, and new cards that also expand the base game of Arkham Horror (if you chose to go back and play the original without the expansion). Dunwich Horror also ships with a new game board that expands the original Arkham Horror by as much as 1/3 more. You can read the official rules for the expansion here [pdf].
The Company Line: The supernatural disturbances that plague Arkham, Massachussets, are not limited to that unfortunate place. The town of Dunwich is only a short train ride from Arkham, and if anything it is a darker, more frightening place, with its own secrets and its own perils. It looks like the investigators are going to have to protect two towns now instead of just one; if they ignore the dark forces that are stirring in Dunwich, they'll have to face the wrath of the Dunwich Horror ...

Dunwich Horror is an expansion to Arkham Horror, complete with an extra board and the entire town of Dunwich - accessible via train from Arkham. There are plenty of new rules and new components, usable either with or without the Dunwich board addition. Features include:

The town of Dunwich, on a new board with new locations and new rules!
8 new investigators with their own reasons for saving the world.
4 new Ancient Ones to desperately struggle against.
New Injury and Madness cards for particularly unfortunate investigators.
New game concepts, such as gate surges and the Dunwich Horror itself!
Over 20 new monster tokens, dozens of new items and skills, new encounters - over 300 new cards in all!
Now we're from New England - Massachusetts actually, and we thought we'd let you know that we're a sleepy state compared to our southern neighbor Rhode Island, which has a history of Vampire-related killings, and rekillings. And sure you could counter by saying that Massachusetts has a history of it's own, with our "burning witches" and "breeding axe murderers", but our tourism board will have you know that we have great textiles and our clam chowder is second to none. Don't forget to pick-up a patriotic Minuteman refrigerator magnet and a snow globe of Boston's skyline before you leave!
The Arkham Horror: Dunwich Horror expansion is available to order from Amazon and Funagain Games.
Read More in: Board Games | Gaming News
Share this Article with others:
Related Articles:
Came straight to this page? Visit Critical Gamers for all the latest news.
Posted by Critical Gamers Staff at November 22, 2006 11:42 AM