An Official Blue Moon City Expansion for Free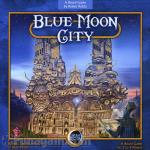 Fantasy Flight games has posted 4 expansion tiles for their popular and critically acclaimed fantasy themed city building board game
Blue Moon City
.
The expansion was original published in the German board game magazine Spielbox, and is now available for free in PDF form on the
Fantasy Flight Games website
. Players have to print out the graphics of the 4 additional tiles, cut them out and glue them to cardboard, which doesn't seem so bad considering this stuff is free.
The building tiles and their rules in the expansion are:
Hospital - A player who finishes his/her turn on the hospital draws two additional cards.

Assembly Hall - A player who finishes their turn on the Assembly Hall may immediately jump to any other building tile but cannot execute any further actions or use special abilities there.

Golden Shrine - A player who finishes their turn on the Golden Shrine may immediately make an offering of crystals to the obelisk in order to place one of their player markers on the obelisk.


Theater - There are no special rules here, but the popcorn is especially delicious.
Enjoy!!
Read More in: Board Games | Gaming News
Share this Article with others:
Related Articles:
Came straight to this page? Visit Critical Gamers for all the latest news.
Posted by Critical Gamers Staff at February 1, 2008 3:35 PM