Age of Steam 3rd Edition Board Game Released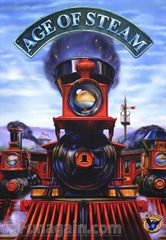 Attention fans of rail builders out there, specifically Rail Road Tycoon fans, the more complex strategy classic Age of Steam 3rd Edition [Funagain] has been released. This new revision shares common rules with the perevious editions, but sports components far superior to to those releases; Additionally the base game in Age of Steam 3rd Edition is also designed for 3 to 6 players to play over the course of two hours, but also sports two additional fold out maps that offer single player and two player scenarios.
The game definitely kicks it up a notch on the old difficulty scale compared to Rail Road Tycoon, so if you're a fan of that franchise and you'll looking for something a bit more challenging, then Age of Steam is certainly worth your time. Fans of Ticket to Ride may find Age of Steam 3rd edition a significant step up from the fun Family Game they're used to, so they may want to try out Railroad Tycoon instead.
We should also mention that this Age of Steam 3rd Edition release comes out on the eve of Steam, a restructuring of the Age of Steam franchise. So if you're a long time Age of Steam fan, then you might want hold off to see what that release brings to the table next month.
Read More in: Board Games | Gaming News
Share this Article with others:
Related Articles:
Came straight to this page? Visit Critical Gamers for all the latest news.
Posted by Critical Gamers Staff at February 27, 2009 1:23 PM