Age of Empires III Released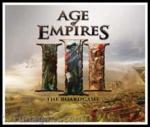 When Eagle Games closed its doors last year there were concerns that this aesthetically gorgeous game wouldn't ever see the light of day (back then we didn't know anything about the rules, so AoE3 was pure eye candy at that point). But then Tropical Games picked up the slack, and here we are, nearly a year later, staring at the release version of Age of Empires 3: The Age of Discovery [Amazon,Funagain]
The game centers around the colonization of the Americas, where players build colonial infrastructure and send specialists into new terrain to claim land and resources in their country's name. The buildings help supply the players with new explorers, workers, etc, with players scoring points based on the territorial control of their colonists at three different points in the game. The game doesn't simulate any wars that eventually erupted out of historic conflicts of interest, but that doesn't mean that players can't angrily their shake fists at one other, or smack opponents across the face with a prized New England Cod (cod not included).
If you're looking to do some more research about the game before you buy, then checkout this good user review at BGG which is at last somewhat critical of the game. Maybe not critical enough, but hey – the game scored very well in numerous play tests so maybe a ton of critiques aren't necessary.
Continue on for a nice shot of the gorgeous board (click-it to expand), and the official company information about the title:
"It is the late 15th century and a new age is dawning. While searching for a new trade route to India, explorers have discovered a new land. The first reports tell of strange creatures, exotic people, and fabulous wealth. Captains and adventurers flock to these new lands in search of gold. They are quickly followed by colonists, soldiers, merchants, and missionaries all seeking wealth of one kind or another. Colonies begin to spring up, and soon competition among the great nations of Europe begins.

Take the role of one of Europe's colonial powers and stake your claim in the New World. As the leader of your nation, there are many paths that lead to victory: Discover and colonize new lands; acquire trade goods that will build your economy; develop new technologies and infrastructure in your home country; build your merchant fleet to dominate the trade routes; and build your army to defend what is rightfully yours!
The triumphant revel in riches and glory, while the vanquished become a footnote in the history books. It is an Age of Discovery... it is an Age of Empires!

Explore the New World, discovering and claiming new lands for your empire
Gather resources to develop your economic infrastructure
Build structures that give you advantages in resources or victory points
Use specialists to give you the strategic advantage over your opponents
Go to war to defend what is yours or take what is not

"
Read More in: Board Games | Gaming News
Share this Article with others:
Related Articles:
Came straight to this page? Visit Critical Gamers for all the latest news.
Posted by Critical Gamers Staff at May 29, 2007 1:13 PM