Age of Empires III Preview at Board Game News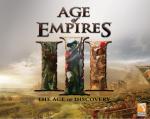 The good folks over at BoardGameNews.com have thrown together a collection of preview snapshots for the upcoming title Age of Empires III [Funagain]. The page includes images of the fantastic looking board (see image below right), the box, and some images of the game pieces from various factions.
For those of you who don't remember early 2006 when the game was first announced (and before Eagle Games feel on hard times) Age of Empires III is set during the Age of Colonialism, when the major European powers fought to take control of the trade centers of American trade. Players must build infrastructure to harvest goods and resources in the New World to ensure they become the strongest and richest power in the region.
The good news of the day is that Age of Empires III has survived the collapse of publisher Eagle Games, which closed its doors last year. Publisher Tropical Games has now taken control of the torch and is working to bring the game to market sometime around May of this year. Nice.
Here's the game's official mass media literature:
The Company Line: It is the late 15th century and a new age is dawning. While searching for a new trade route to India, explorers have discovered a new land. The first reports tell of strange creatures, exotic people, and fabulous wealth. Captains and adventurers flock to these new lands in search of gold. They are quickly followed by colonists, soldiers, merchants, and missionaries all seeking wealth of one kind or another. Colonies begin to spring up, and soon competition among the great nations of Europe begins.

Take the role of one of Europe's colonial powers and stake your claim in the New World. As the leader of your nation, there are many paths that lead to victory: Discover and colonize new lands; acquire trade goods that will build your economy; develop new technologies and infrastructure in your home country; build your merchant fleet to dominate the trade routes; and build your army to defend what is rightfully yours!
Age of Empires III is currently set to ship in May of 2007, and is now available to preorder from Funagain Games.
Read More in: Board Games | Gaming News
Share this Article with others:
Related Articles:
Came straight to this page? Visit Critical Gamers for all the latest news.
Posted by Critical Gamers Staff at February 23, 2007 1:50 PM