Age of Empires 3 Board Images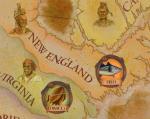 Publisher Eagle Games, who released select illustrations of the upcoming Age of Empires 3 board and documentation a few weeks ago, have now also released an image of the entire game board. You can check it out in this forum post here.
The board does a great job to match the style of the nautical maps from age of exploration and early colonial periods. One thing we're miffed about though - all these regions of the Americas have really cool exports like Furs, Silver and Gold, Indigo, etc, but they smacked a giant cod down onto our hometown Boston. We realize that the New England fish industry was substantial during that time period, but did Eagle Games need to make the fish look like the President of the New England Colonies?? Look at him all smug in circular framing. Besides, New England has other great exports, too... like wood, and uh... neco wafers. Crap, they got us.
Anyway, you might have noticed that the board's spacing doesn't quite present itself to good wargamming play - that's because Age of Empires 3 has more of a Eurogame builder gameplay style (like Caylus) rather than a Risk-esque slugfest. Looking at the board in this context, it's really quite a pretty thing.
Read More in: Board Games | Gaming News
Share this Article with others:
Related Articles:
Came straight to this page? Visit Critical Gamers for all the latest news.
Posted by Critical Gamers Staff at June 15, 2006 1:12 PM