Age of Conan Board Game Rulebook Hits Net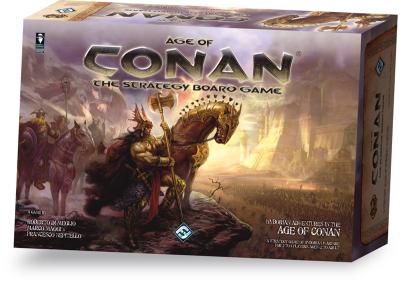 Age of Conan [Funagain] is the largest blip on our radar for that normally sad time between the Holidays and the Spring releases. One reason - of course - is that it's Conan, and bashing heads in Crom's name is more fun than a barrel of monkeys playing poker. But more importantly, Age of Conan is under development by Nexus Games, and is slated to be published by the Fantasy Flight Games, which is in our shortlist for best publishers of the early 2000s in terms of quality and pieces.
These two companies teamed up before when they brought us the epic Lord of the Rings strategy board game War of the Ring series. We loved those games, but thankfully it appears that Age of Conan will be a bit easier to setup and play. Heck, not that this game is a fluffy bunny, but the rulebook is only around 25 pages long! Sweet.
The game centers around 4 players controlling a kingdom of their own, each vying for power over Hyboria. Conan himself wanders the board, busting heads on his own terms. However, players have the option of buying Conan for a turn, adding him to their arsenal of weapons for conquest. Players will also have others units, and leverage both sorcery and subterfuge / negotations to bend other factions to their will.
The player with the strongest empire - either through money, military conquest of political intrigue - is crowned the winner. This could happen as soon as Conan exhausts all of his adventures (around 12 or so), or if a player successfully influences Conan enough to crown him king of his or her kingdom. Though having Conan as your king doesn't guarantee a win, it does bring the final Hyborian Age - and Age of Conan - to an end.
You can peruse the rules on This Page at Nexus, or you could skip right ahead a directly open the Age of Conan Rulebook PDF
We're sure that soon that Fantasy Flight Games will start some preview articles shortly after the holidays. We'll let you know as soon as they start going up. Till then, here's a bit of information form the Nexus Games Website:
---
"Welcome to the world of Conan, the barbarian hero created by Robert E. Howard. Age of Conan is a strategy board game that lets each player control one of the four major kingdoms of the Hyborian Age. Players fight with armies, sorcery, and intrigue to conquer their enemies and make their kingdoms the most powerful in the world. However, only one will win the allegiance of the mightiest hero of all - Conan the Cimmerian!

The rulebook of Age of Conan is now available for you to download, as a full preview of the game.

Age of Conan will be available worldwide in Italian, English, French, German, Russian and Spanish edition in february 2009."

---
Read More in: Board Games | Gaming News
Share this Article with others:
Related Articles:
Came straight to this page? Visit Critical Gamers for all the latest news.
Posted by Critical Gamers Staff at December 7, 2008 3:58 PM