Age of Conan Board Game Fall 2008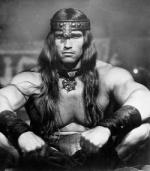 Back in 2006 we reported that the upcoming MMORPG Age of Conan was getting a board game adaptation from Nexus games (Marvel Heroes, War of the Ring, Descent ) in late 2007. Well, unfortunately the online game's schedule has slipped - now scheduled for a Summer 2008 release - and so has the subsequent board game adaptation. But fear not, you'll still be able to smash heads in Crom's name, you'll just have to do it later than expected.
The new targeted release date: Late 2008.
Gaming Report has the full story on the release schedule and product info, as well as these other juicy game details.
Here are the updated game details, which have changed somewhat since the game's first announcement:

"In Age of Conan: The Board Game, 2-4 players control the lands of Aquilonia, Hyperborea, Turan, and Stygia, trying to increase power and influence in the Hyborian Age, while trying to influence the mighty Conan to side with them -- or at least against their enemies! Age of Conan: The Board Game will be released by FFG in late 2008."
For more of the evolving game details, checkout this great story on BoardGameNews. We'll keep you posted of the official details of the game as they're released.
Read More in: Board Games | Gaming News
Share this Article with others:
Related Articles:
Came straight to this page? Visit Critical Gamers for all the latest news.
Posted by Critical Gamers Staff at May 5, 2008 3:18 PM