Acquire the Board Game: A Classic's Reprint Hits Stores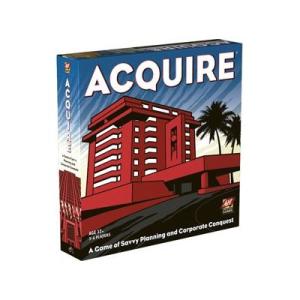 Fans of the classic board game Acquire [Amazon, Funagain] has been starved of adequate supply for years now. Even worse, demand as soaked up so many copies that some folks may not have even had a chance to play it, and that's quite a !!! shame.
Thankfully a new edition has just been released from Wizards of the Coast
Acquire players sit with a row of hidden tiles in front of them, akin to a 'hand' of ties in Scrabble, and to lay and connect tiles on the gridded board to form companies. Tile placement is restricted to certain areas of the board by the tile type, so the player created companies grow at different rates, and in different directions. As each grows the players can can invest in the companies, with each player vying for ownership over particular regions of the board. When two companies grow to intersect each other, then a corporate takeover occurs a payouts are given to those folks in majority control of the newly form company.
The rules are relatively simple and clean, yet the gameplay is deep in an elegant. Othello-esque in many sort of ways.
This latest production from Wizards of the Coast is cheaper than some past runs, and unfortunately the game materials show it. While the title plays like any other game of Acquire, players who put stake in the quality of the components may find 2008's run to be somewhat lacking. Have no fear though; there are quite a few copies of the high quality vintage Acquire Board Games available on Ebay, spanning all generations of the game line (back to 1962!).
Here are Acquire's official details about this game:

"As a powerful real estate tycoon, there are only seven hotel chains in the world worthy of your attention. Using nothing but your wealth and wits, you must vie against other business magnates to manipulate construction and capitalize on mergers -- buying, trading, and selling stocks in order to get the greatest return on your investments.

Acquire challenges you to pit your resources and resolve against other players in this high-finance game of speculation and strategy!

"
Read More in: Board Games | Gaming News
Share this Article with others:
Related Articles:
Came straight to this page? Visit Critical Gamers for all the latest news.
Posted by Critical Gamers Staff at June 20, 2008 4:18 PM