A Preview of Battles of Westeros' Scenarios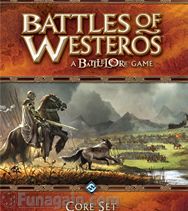 The line of Battles of Westeros previews continues. This latest installment "A Clash of Swords" delves into what you should expect from the games various scenarios.
The article provides an example of the components and flavor of an early battle between the House of Stark and Lannister. And while the game will feature a long line of set pieces between these two Houses lifted straight from the Song of Ice and Fire series of novels, with new Houses to come in subsequent expansions, this base set will also ship with the framework to create random skirmish scenarios, too.
The selection and placement of a balanced series terrain tiles, victory conditions and commanders will be determined with the random draw of cards from the skirmish deck. Very interesting stuff.
Please see our previous coverage for more information about The Battles of Westeros:

We'll check back in with you once the title gets an official ship date. Until then here are the game's official details:
"Unfurl the banners of the Great Houses of Westeros! To secure power in the Seven Kingdoms and to ensure the survival of their lines, the Houses of Westeros each follow very different paths. Some forge strategic alliances, some create complex political intrigues, and still others use deceit and betrayal. But there is no more direct or lasting path to power than taking to the field of battle.

In Battles of Westeros, two players recreate the military conflicts set in George R.R. Martin's A Song of Ice and Fire series, taking part in battles directly from the books... or designing their own. In this epic board game of battlefield tactics, players control either..."

- Fantasy Flight Games
Read More in: Board Games | Gaming News
Share this Article with others:
Related Articles:
Came straight to this page? Visit Critical Gamers for all the latest news.
Posted by Critical Gamers Staff at June 7, 2010 5:00 PM