A Pillars of the Earth Expansion Witihin a Pillars of the Earth Expansion - It's Full of Stars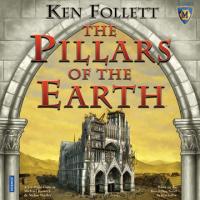 The Pillars of the Earth board game
adaptation of Ken Follett's novel is one of our favorite games from last year. In fact, it might be our #1 game of 2007.
We've heard news of a 5-6 player Pillars of the Earth boxed expansion due out this year, which is great because you know - the more the merrier. But then on another front Spielbox Magazine's issue #6includes a 6-card expansion to the main game, which offers furhter depth and also works with the upcoming 5-6 player expansion.
But news has surfaced that the Spielbox expansion will be bundled within the 5-6 player expansion. Check your junk mail filters now; with both expansions together everything will be all tightly bound into one box, both enhancing and expanding our favorite cathedral builder Eurogame for better performance and deeper gameplay.
Information and images of the Spiebox Expansions' cards and rules can be found here on Board Game Geek. We'll keep you posted of when the official Pillars of the Earth boxed 5-6 player expansion hit shelves.
Read More in: Board Games
Share this Article with others:
Related Articles:
Came straight to this page? Visit Critical Gamers for all the latest news.
Posted by Critical Gamers Staff at January 28, 2008 4:01 PM