Battlelore Battalion & Skirmishers Specialist Pack Expansions
The BattleLore Fantasy Wargame System from Days of Wonder has just grown with two new small boxed releases within the Specialist Pack series of expansions.
The Goblin Skirmishers [Amazon, Funagain] pack includes eight new Spear Bearers to upright horses and eight Goblin Slingers for some ranged stone throwing from behind your spear wall. But the heart of the expansion is the Goblin Bandleader conduction three Goblin Drummers who play savage beats to drum their compatriots into a fearless killing frenzy.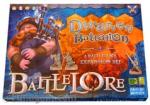 On the other side of the fence is the Dwarven Battalion [Amazon, Funagain]. Similar to their goblinoid counterparts, the dwarves are also centered around a spearmen, ranged axe throwers, and musical theme. But instead of emboldening friendly forces with music the Dwarven players strike fear into the hearts of their enemies through haunting bagpipe song.
Both of these Specialist packs come with two new adventures, each. Definitely a nice little way to spice up some of your Battlelore gaming with a new injection of content at a somewhat low price point ($26 MSRP), though it would have been nice – and somewhat reasonable - to get both sets for around that price.

Read More in: Board Games | Gaming News
Share this Article with others:
Related Articles:
Came straight to this page? Visit Critical Gamers for all the latest news.
Posted by Critical Gamers Staff at July 31, 2007 3:23 PM